Game Description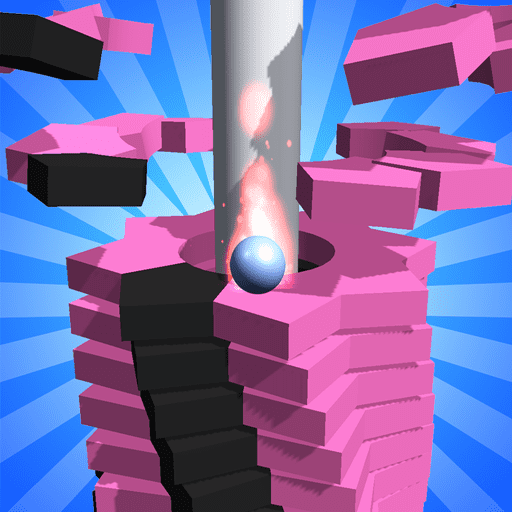 Helix Jump is a fast-paced and engaging game that tasks players with guiding a bouncing ball as it descends through a towering spiral maze. The goal is to avoid obstacles, maintain momentum, and reach the bottom without hitting any red platforms.
Game Controls
Helix Jump offers straightforward touch controls for mobile devices:
Swipe Left or Right: Swipe your finger left or right on the screen to control the direction in which the ball moves.
How to Play Helix Jump?
Playing Helix Jump is both simple and challenging. Here's a basic outline of how to play:
Descend the Helix: Your ball starts at the top of a helix-shaped maze. Swipe left or right to guide it through the maze as it bounces down.
Avoid Red Platforms: The maze contains both red and white platforms. Avoid hitting the red ones, as they will shatter your ball and end your game.
Collect Diamonds: Along the way, collect diamonds to increase your score.
Break Through Obstacles: Some white platforms have barriers that require several bounces to break through.
Reach the Bottom: Your ultimate goal is to reach the bottom of the maze without hitting any red platforms.
Tips and Tricks
To master Helix Jump and achieve high scores, consider these tips and tricks:
Maintain Momentum: Keep your ball moving and maintain a rhythm to build momentum and bounce through obstacles more efficiently.
Precision Swiping: Swipe with precision to navigate between platforms and avoid collisions with red obstacles.
Timing is Key: Pay attention to the timing of your swipes to ensure your ball lands on white platforms and breaks through barriers effectively.
Diamond Collection: Try to collect as many diamonds as possible, as they contribute to your final score.
Practice Patience: In challenging sections, it's sometimes better to wait for the right moment to descend rather than rushing.
Game Developer
Helix Jump was developed by Voodoo, a mobile game development studio known for creating simple yet addictive games that appeal to a wide audience. Voodoo has produced a variety of casual mobile games that have garnered millions of downloads and are recognized for their engaging and easy-to-grasp gameplay mechanics.
Game Platforms
Helix Jump is available on the following platforms:
iOS: You can download and play Helix Jump on Apple devices, including iPhones and iPads, from the Apple App Store.
Android: Helix Jump is also available for Android devices, and you can find it on the Google Play Store.
How to Play Unblocked
Playing Helix Jump unblocked is simple and typically does not involve any online restrictions. You can enjoy the game without encountering blocks or restrictions as it is a mobile app. To play Helix Jump unblocked, follow these steps:
Access the App Store: On your iOS or Android device, open the respective app store, which is the Apple App Store for iOS or the Google Play Store for Android.
Search for "Helix Jump": Use the search feature within the app store and type "Helix Jump" in the search bar.
Download and Install: Locate the Helix Jump game in the search results, click on it, and then press the "Download" or "Install" button to download and install the game on your device.
Play the Game: Once the installation is complete, you can launch the game by tapping on its icon from your device's home screen. The game will be ready to play without any unblocking requirements.
Helix Jump is a mobile game and can be freely downloaded and played on iOS and Android devices without encountering typical web-based restrictions. Enjoy the game and have fun navigating the maze as you guide the bouncing ball to the bottom.
Conclusion
Helix Jump offers a thrilling and challenging experience in the world of mobile gaming. With its intuitive controls, addictive gameplay, and a simple yet captivating concept, it's a game that keeps players coming back for more. Whether you're skillfully guiding your ball through the maze, collecting diamonds, or aiming for the highest score possible, Helix Jump provides an entertaining vertical adventure that is hard to put down. Enjoy the maze, test your reflexes, and aim for the top of the leaderboard as you experience the exhilarating descent in this mobile gaming sensation.