Game Description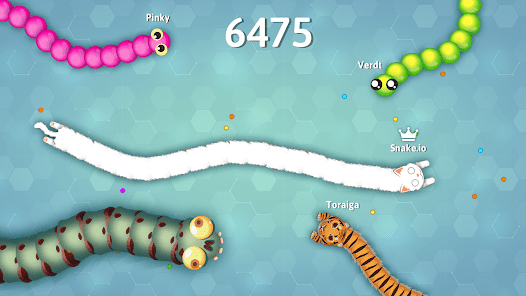 Snake.io is a modern take on the classic Snake game. Players control a colorful snake, navigate the game arena, and strive to become the longest and most dominant snake on the battlefield. It's a test of agility, strategy, and survival instincts.
Game Controls
Mastering the controls is crucial in game to outmaneuver your rivals and grow your it. The game features a simple control scheme, making it accessible to players of all skill levels:
Touchscreen (Mobile): On mobile devices, players can control their it's direction by swiping their finger on the screen.
Mouse (PC): If playing on a PC, use the mouse to guide your it in the desired direction.
Keyboard (PC): Some versions of the game on PC also allow for keyboard control, using arrow keys for movement.
How to Play Snake.io?
Playing Snake.io is all about survival and growth. Here's a basic outline of how to play:
Start Small: You begin as a small it and must collect colored dots to increase your length.
Avoid Collisions: Avoid running into other it, your it's own body, or the arena's boundaries, as this will result in elimination.
Hunt and Consume: Consume the dots and defeated it to grow longer and increase your score.
Strategy: Use tactics to trap opponents and force them into collisions, allowing you to consume their remains.
Leaderboard: Keep an eye on the leaderboard to track your progress and strive to reach the top spot.
Tips and Tricks
To thrive in the game competitive world, consider the following tips and tricks:
Stay Alert: Be aware of your surroundings at all times to avoid sudden collisions with other it.
Cut Off Opponents: Trap your opponents by encircling them or cutting off their path, forcing them into a collision with your snake's body.
Mind the Tail: Be cautious about your own tail, as running into it will result in elimination. Plan your movements carefully.
Speed Boost: Some versions of the game offer speed boost power-ups. Use them strategically to gain an advantage.
Stealth and Ambush: Hide in your snake's own trail and surprise opponents by ambushing them when they least expect it.
Game Developer
Snake.io was developed by Kooapps, a game development company known for creating a wide range of mobile games that appeal to diverse audiences.
Game Platforms
Snake.io is primarily available as a mobile game for both iOS and Android platforms, making it accessible to a broad audience of smartphone and tablet users.
How to Play Unblocked
To play Snake.io unblocked, follow these steps:
Access Unblocked Game Websites: There are numerous gaming websites that offer unblocked versions of popular games, including the game. Use a search engine to find websites that provide unblocked access.
Use Mobile Data: If you're trying to access the game on a restricted network, consider using your mobile data or a personal mobile hotspot. Mobile networks typically don't have the same restrictions as public or workplace Wi-Fi.
VPN Services: If the game is blocked due to network filters or geographical restrictions, consider using a VPN (Virtual Private Network) to bypass these restrictions and access the game from a different virtual location.
Proxy Servers: Utilize proxy servers or web proxies to access blocked websites, including those hosting unblocked versions of Snake.io.
Play Downloadable Versions: Look for downloadable versions of the game that are not subject to online restrictions. These can be installed and played directly on your device.
Please exercise caution and use legitimate sources when accessing unblocked games to ensure a safe and secure gaming experience.
Conclusion
Snake.io offers an exciting multiplayer experience where players must slither their way to the top of the leaderboard. With simple controls and addictive gameplay, it's a game that provides hours of entertainment. Whether you're outsmarting opponents, collecting colorful dots, or planning elaborate ambushes, Snake.io keeps players engaged in a thrilling and competitive world of serpentine survival. Slither your way to victory and claim your spot as the top snake on the leaderboard. Enjoy the adventure and challenge your friends in this modern take on a classic concept.